One of the things my boyfriend & I really looked forward to when we moved in together was doing lots & lots of cooking. We're both foodies, and used to eat in restaurants a lot, but since we bought a house together we've done less of that due to less time (the house requires a lot of DIY!) and money.
When doing the kitchen, we decided to get a range-style double oven, which has proved invaluable for our regular Sunday cooking sessions. Yesterday, for the second time, we made slow-cooked roast beef, inspired by this recipe from Hawksmoor.
The first time we made this, we used a posh "Taste the Difference" beef roasting joint from Sainsburys. This time, we used one of their cheaper ones (the kind that comes shrink-wrapped). Both turned out well, so for budget reasons I reckon it's better to get the cheaper beef – either way, get a lean joint without any added fat. This cooking style means you end up with tender beef no matter what quality the beef is.
Pre-heat the oven to 80°C (or the lowest setting you can get it!). We have a both a conventional & fan oven in our range cooker, and we use the conventional oven for this. Quickly sear the beef in a frying pan, then place the joint on a trivet (we use roughly-chopped carrots) in the roasting pan. Cook for 4 hours.
The only tricky bit for this recipe is getting the temperature right. You will need a meat thermometer, which you can get at any supermarket or cookware store (ours was from Sainsburys). Start testing the temperature of the beef after 3.5 hours. The first time we cooked this, we cooked the joint until it was 60°C inside, and the result was medium (probably a bit overcooked for our liking). Yesterday we cooked it until it was 51°C inside, and the result was very rare. At first I thought it would be too rare for me, but it was absolutely delicious & tender.
Here's how it looked fresh out of the oven:
Not amazingly inspiring, I know! But once it was all gussied up with gravy, spring greens & roast potatoes: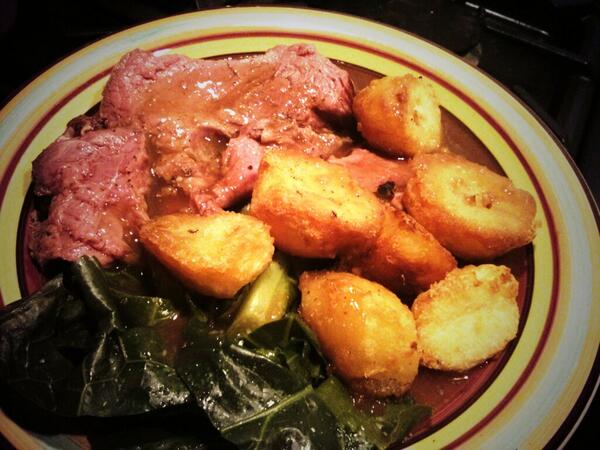 Really delicious, and so so tender for a cheap cut of beef.
We served ours with roast potatoes, which we could do because of the double oven. If you have a single oven, I'd recommend serving it with mash instead.
Happy roasting!